YourMOOD Meeting Room
We put at your disposal know-how and exceptional framework for the success of your events
The room YourMOOD is at the disposal of your creativity, of your desires, of YourMOODs. Located in a secluded part of the hotel, it can accommodate up to 50 people and be equipped to host all kinds of meetings and events.

YourMOOD keeps you in touch with nature, with its parquet flooring and large glass window overlooking the garden. Fitted with a 75-inch HD display, free Wifi, flipchart, air-conditoning and soundproofing, YourMOOD creates the perfect environment to run the event you want.
The 55 m² room can accommodate 30-60 people, depending on layout. Options include:
U-seat: 30 people
In Theater: 50 people
Standing Reception: 60 people
Of course, the layout of the hotel has been designed to accommodate people with disabilities or those with reduced mobility.
Contact us to tell us about your project and get a quote.
The MOODWorking space
Designed with the business traveller in mind, this MOODz Business space offers the possibility to spend a few hours during the day or in the evening in a connected, comfortable, cosy area close to the Lobby and Bar.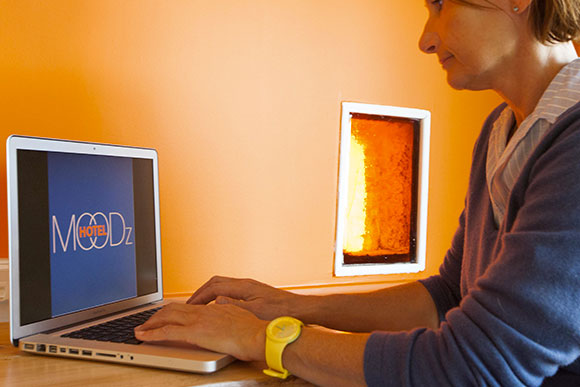 It offers a conducive work space for the traveller on the go and is particularly adapted to the independents, from all sides, from all backgrounds who wish to come together to work, exchange, collaborate, innovate while taking advantage of the environment and services of the MOODz